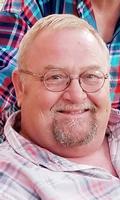 Terry Taylor Irwin
Whipple, Ohio
Sep 24, 1947 – Nov 29, 2017
Terry Taylor Irwin, age 70, of Whipple, Ohio, passed away Wednesday, November 29, 2017, surrounded by his family and friends after a brief illness in Marietta, Ohio. He was born September 24, 1947, in Lansing, Michigan, to Marcielle James Charters Irwin Kern and Charles Gordon Irwin. Terry was raised in Berea, Ohio, and was a 1966 graduate of Berea High School. He served in the U.S. Navy on the USS Arlington and the USS St. Paul during the Vietnam War, and he was stationed at Subic Bay, Luzon Island, Philippines. He also attended the West Virginia Academy of Dog Grooming.
Starting at a young age, Terry loved the outdoors, nature, and animals. He spent many summers at his grandparents' dairy farm or riding along on farm calls with his uncle, who was a veterinarian. In 1977, Terry moved to Whipple to work as the dairy herdsman for his brother-in-law and sister. It was through that work as a herdsman that he met the love of his life at the local veterinarian's office. Terry and Laury went on to work as dog groomers. Together, they ran The Grooming Station in Harmar Village in Marietta, and in 2008, moved the business to their family farm in Whipple. Terry loved animal husbandry, and the dogs always knew he had a special treat in store for them at meal times. His love for animals was always evident in the care he gave them and the happiness they showed when they saw him. He held dear the friendships of his clients he made through his work. Terry felt his best work was shown in his sons. He was an amazing, loving father, devoted husband, and he was extremely proud of his family.
Terry is survived by his wife, Laury Offenberger Irwin, whom he married July 26, 1986; his sons, Sean Taylor Irwin (Kristyn) of Jacksonville, Florida, Benjamin Taylor Irwin of Whipple, and Mackenzie Taylor Irwin (Olivia) of Marietta; his grandchildren, Toby and Nina Irwin of Jacksonville, Florida; his brother, Dana Irwin (Karen) of Westerville, Ohio; his sisters, Kathie Heller of Oakland, California, and Evelyn Bryant (Don) of Oberlin, Ohio; his father and mother-in-law, Warren and Martha Offenberger of Reno, Ohio; brothers-in-law, Jeffry Offenberger and Kelly Bell of San Francisco, California; his nieces and nephews, Brian Heller De Leon (Christie), Barbara Leimkuehler (Henry), Sam Biehl (Julia), Jake Biehl, Kathy Biehl, Kate Bryant, Evan Bryant (Isa), Ellen Bryant, Lauren Wagner (Josh), Jordan Irwin (Diana), and Alexa Irwin; his great-nieces and nephews, Lina and Anna Heller De Leon, Maddie Graham, Aiden Biehl, June Wagner, and Charlie Irwin; special friends, Jared Stetson, Kim Rush, Miles Rush, Toni Presti, and his best beagle buddy, Bazil. He was pre-deceased by his parents, his step-father, Dale Kern; sister, Patricia Ann Biehl; and brother-in-law, Eugene Biehl.
A celebration of Terry's life will be observed April 28, 2018, at 3 P.M. at Moatcroft Farm, 6105 State Rt. 821, in Whipple. In lieu of flowers, memorial contributions may be made to the animal charity of one's choice. McVay-Perkins Funeral Home, 416 East Street, Caldwell, is caring for the family. An online guestbook may be signed at www.mcvay-perkins.com