Convert our Class of 1966 website to Facebook?
I'm thinking of converting our Class of 1966 website to a Facebook page for 2 reasons:
Many of us have Facebook accounts, if not, anyone can "see" a Facebook page;
The cost of our "Premium" subscription has increased to $165 per year, which I've been paying with the help of an occasional donation (thank you to those who have contributed)! The "Free" version has ads but the main problem is that it has VERY limited space for pictures and we were WAY over the limit years ago and we don't have the option to go back to a free version. I started the site in July 2008, I can't believe it has been 13 years!
What are your thoughts? Good idea, Yes/No? I love the idea of having some way to keep connected but would like your feedback. Thank you, Larry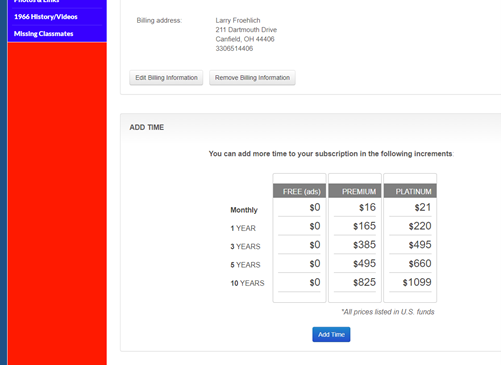 You must be a member to submit this survey. If you are a member please log in first. You can't submit this form until you've logged in.
| | |
| --- | --- |
| 1) | Should we move our Class of '66 page to Facebook? |
| | |
| --- | --- |
| 2) | Any comments or suggestions? |