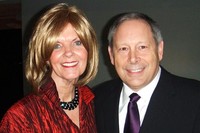 If you have any information, memories, or thoughts to share, please post a comment.
Joanne, Stork, passed away on July 26, 2007; ovarian cancer. If you have any information to share here please either let me know or add it as a response.
This was the last note I recieved from Joanne, dated February 6, 2007:
Dear Larry, I have finally logged on to the BHS website. You've done a fantastic job. It was so fun to "join" all of you at the 40th Reunion via pictures. Ironically, the plan was to attend and then we wound up in Ohio the following week with news of cancer. My hope is to be there at the 45th. I wanted to personally thank you for the updates you have provided to members of our class. I have heard from many classmates and their thoughts and prayers are so appreciated. I just read Judy Hoch McKeller piece on ovarian cancer. I will email her next. My home email is jsbrookhart@aol.com and I would be pleased to have you add it to the others.
Warm regards, Joanne "Stork"