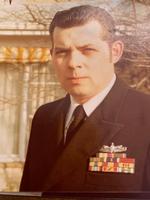 MICHAEL JOSEPH BRENDERS, age 72 passed away peacefully September 18, 2021 while surrounded by family in McKinney Texas.
Michael grew up in Brook Park, Ohio where he attended Berea High School class of 1966. After high school he joined the Navy, achieved the rank of Master Chief Petty Officer and worked as a Shipboard Chemical, Biological, and Radiological Defense Operator and Training Specialist. Michael served in Vietnam, Southeast Asia, Kuwait, and the Middle East. He retired after 27 years of faithful service. After retiring from the military Michael and a co-owner opened up a country western bar in Singapore called The Lonestar Bar. They were entertained by numerous stars such as Johnny Cash, Kris Kristofferson, Waylon Jennings, and Willie Nelson otherwise known as The Highwaymen. Michael eventually established his roots in Farmersville, TX where he was an active member of VFW Post 7426.
Devoted son of the late Thomas and Ellen. Dear brother of Paul, James (Gloria), Kevin, Ellen (George) Cowgill, Thomas (deceased), and Barbara (Ronald) Unger. Uncle and great uncle to many.
All Services Private. Interment at Ohio Western Reserve National Cemetery. For those who wish, the family suggests memorial contributions be made in Michael's name to VFW Post 7426, P.O. Box 663, Farmersville, TX 75442.
https://www.humenikfuneralchapel.com/obituary/michael-joseph-brenders/