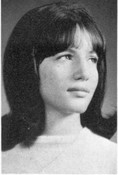 Name: Yoder, Rebecca R.
Date: Jun 27 1967
Source: Plain Dealer; Cleveland Necrology File, Reel #168.
Notes: Yoder. Rebecca R. Yoder, beloved daughter of Frances (nee Trempus), and Carl, sister of Barbara Lengel, June 25, late residence, 6041 Engle Rd. Requiem Mass Wednesday, June 28. Assumption Church at 12 noon (Smith Rd.), Contributions may be sent to the Library Fund Assumption School. Friends may call at Wm. F. Chambers Funeral Home, 4420 Rocky River Dr., 2-5 And 1-10 P.M. Tuesday.
If you have any information, memories, or thoughts to share, please post a comment.
Cancer: leukemia