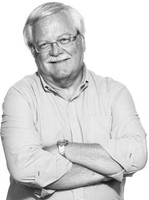 Robert Lee Geiger of Granville, Ohio, age 66, passed away peacefully on August 13, 2014.

He will be greatly missed by his wife, JoAnne; his son, Christopher; sister, Carol; two beloved granddaughters, Cameran and Caylin; sister-in-law, Carolyn Zercher, her husband Tom Zercher; nieces, Sarah Zercher and Leslie Cooper; grandniece, Rio; and many loving friends.

Rob attended Berea High School and graduated from the College of Wooster in 1970. After college, he and JoAnne moved to Bozeman, Montana, where he worked as Sports Editor of the Bozeman Daily Chronicle. They returned to Shaker Heights, Ohio and Rob began his career in Marketing Communications at Durkee Foods in Cleveland. Later he worked at Ross Laboratories in Columbus and Ansell Healthcare, Inc. in Atlanta and Coshocton. For the last 15 years Rob, along with his wife, JoAnne, was co-owner of Granville's independent bookstore, The Reader's Garden.

Rob's real passions were reserved for his many interests and hobbies, including rare books, French wines, photography, history, and collecting baseball memorabilia and HO scale trains. He was a member of The Rowfant Club of Cleveland, a men's literary group, The Nickel Plate Historical Society, the Granville Historical Society, the American Bibliographilic Societies, and the Mencken Society.

There will be a celebration of Rob's life at the Geiger home at 4:00 P.M. on Monday, August 18, 2014 with Rev. Dr. Stephen H. Applegate officiating.

Online condolences may be expressed at www.mcpeekhoekstra.com.

In lieu of flowers, the Geiger family requests that memorial contributions be made in Rob's name to the Food Pantry Network of Licking County, 823 Steel Ave., Newark, OH 43055.
If you have any information, memories, or thoughts to share, please post a comment.