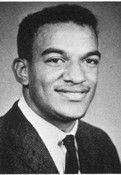 Name: Perry, Lee E.
Date: Apr 21 1969
Source: Cleveland Press
Notes: Lee E. Perry, Spec. 5th, U.S. Army, beloved son of Mabel W. and
the late Lee Edward, brother of Doris Jean Johnson and Donna
Jo. Funeral services Tuesday, Apr. 22, at 1 p.m. at The
First Baptist Church, Berea. Friends may call at The Baker
Funeral Home, Berea, Monday 2-4 And 7-9 P.M.

If you have any information, memories, or thoughts to share, please post a comment.